Bischoff's

Shades of the West

7247 E Main Street
Scottsdale, AZ - 85251
P: 888 239 5872
F: 480 945 3583
Bischoff's

Gallery

3925 N. Brown Avenue
Scottsdale, AZ 85251
Phone: 480-946-6155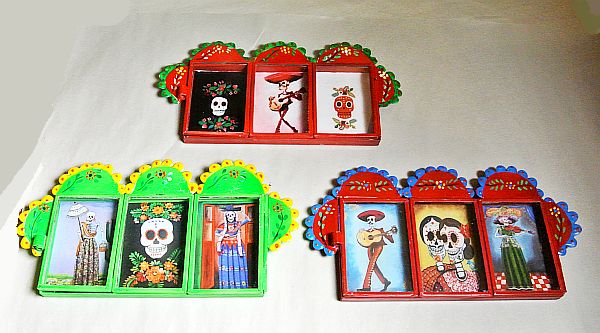 BM501 Triple Nicho Box
Recommend to a friend

Day of the Dead
Retail price without tax:
$35.00
Description
BM501 Triple Nicho Box
Hand painted Day of the Dead nicho box with images of Katrina (green), Sugar Calavera and Mariachi Skeleton (Chinese red) or Marachi Skeleton, Sugar Skull and Katrina (red).
The overall measurement of the tripartite box is 4 1/4" x 8".

A nicho box, or simply 'nicho', is a three-dimensional or recessed display box, much in the spirit of a shadow box, used as a portable shrine to an important figure or loved one. They originated as an adaptation of the Roman Catholic 'retablo', which is a painting of a saint on wood or tin. The difference is that while retablos are flat, nichos are in the shape of boxes and often feature hinged doors, creating an accessible stage-like setting for a significant image and trinkets.
In addition to being placed on alters, sugar skulls are often used to decorate the gravestones of the deceased. The skulls are very bright and cheerful, meant to celebrate the lives of the deceased.