Bischoff's

Shades of the West

7247 E Main Street
Scottsdale, AZ - 85251
P: 888 239 5872
F: 480 945 3583
Bischoff's

Gallery

3925 N. Brown Avenue
Scottsdale, AZ 85251
Phone: 480-946-6155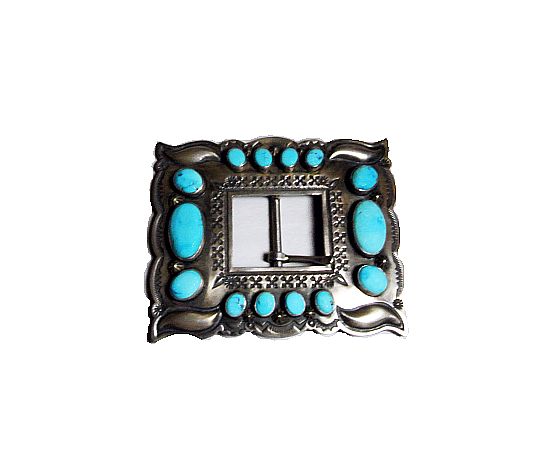 J1868 Sterling Silver Bolo
Recommend to a friend

Dan Oliver
Retail price without tax:
$895.00
Description
J1868 Turquoise Buckle
Sterling silver and turquoise hand stamped buckle by Navajo silversmith Dan Oliver. The 3" x 3 1/2" buckle with 14 turquoise cabochons fits a 1" belt.
Hallmark: "Dan Oliver" "Shades of the West, Scottsdale, Az"
Dan made both traditional and contemporary silver work. He used pottery and rug designs in his traditional work. He said he got his other inspiration from nature: trees, animals, birds, mountains. Dan said: "Silversmithing is all I've ever done my whole life. I would like people to remember me for my silver work."