Bischoff's

Shades of the West

7247 E Main Street
Scottsdale, AZ - 85251
P: 888 239 5872
F: 480 945 3583
Bischoff's

Gallery

3925 N. Brown Avenue
Scottsdale, AZ 85251
Phone: 480-946-6155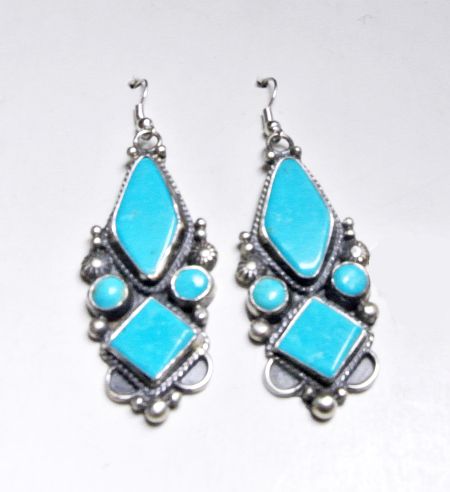 JSW85 Turquoise Earrings
Recommend to a friend

Dean Brown
Retail price without tax:
$235.00
Description
JSW85 Turquoise Earrings
Navajo sterling silver and turquoise dangle earrings by Navajo silversmith Dean Brown. The 3/4" x 2" earrings are made up of two geometric shaped turquoise and two small turquoise rounds.
About the Silversmith
Dean Brown was Kirk Smith's nephew and apprenticed under his famous uncle. Kirk was a widely renowned and well-respected Navajo silversmith as well as a prolific silversmith and one of the principal makers of Navajo Traditional Revival jewelry. Having the influence of Harry Morgan, Kirk Smith and others, Dean became successful in his own right, producing old style jewelry, similar to Kirk's. His pieces combined rich colors, natural matrix patterns and a finish that created the look of naturally aged silver.
Like other Kirk Smith influenced artists Freddie Brown and Anthony Skeets, Dean spent time in the workshop making lots of cluster jewelry. Once you have that taste for cluster it becomes very hard not to fill the silver with as much stone as possible.
Dean has used stunning green Kingman Turquoise and other stones that are full of Arizona mineral character. In many of his pieces the silver is cut out around the stones on the edge creating a fabulous flower blossom look. Dean uses twist wire and silver drops to decorate the pieces and finishes the silver with a rustic brushed look. His is a beautiful combination of applique and wire work, finished to look like a vintage piece.
His pieces are stamped DB and sterling on the inside.