Bischoff's

Shades of the West

7247 E Main Street
Scottsdale, AZ - 85251
P: 888 239 5872
F: 480 945 3583
Bischoff's

Gallery

3925 N. Brown Avenue
Scottsdale, AZ 85251
Phone: 480-946-6155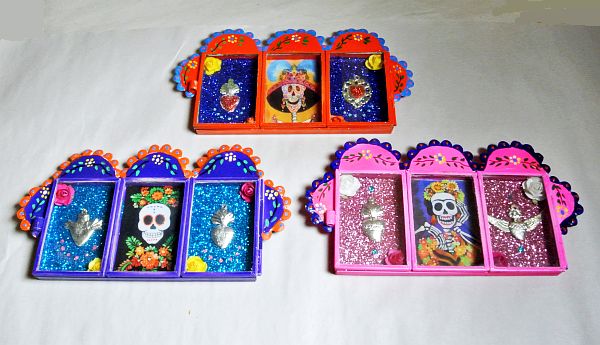 BM500 Triple Nicho Box
Recommend to a friend

Day of the Dead
Retail price without tax:
$35.00
Description
BM500 Triple Nicho Box
Hand painted Day of the Dead nicho box with an image of Catrina and Milagros. The overall measurement of the tripartite box is 4 1/4" x 8".

A nicho box, or simply 'nicho', is a three-dimensional or recessed display box, much in the spirit of a shadow box, used as a portable shrine to an important figure or loved one. They originated as an adaptation of the Roman Catholic 'retablo', which is a painting of a saint on wood or tin. The difference is that while retablos are flat, nichos are in the shape of boxes and often feature hinged doors, creating an accessible stage-like setting for a significant image and trinkets.