Bischoff's

Shades of the West

7247 E Main Street
Scottsdale, AZ - 85251
P: 888 239 5872
F: 480 945 3583
Bischoff's

Gallery

3925 N. Brown Avenue
Scottsdale, AZ 85251
Phone: 480-946-6155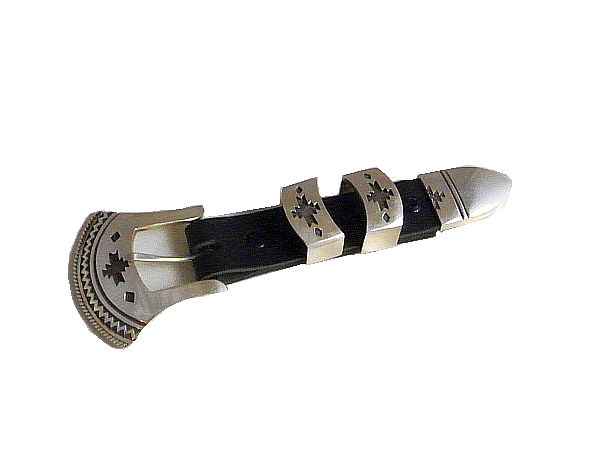 J1902 Silver Overlay Ranger Set
Recommend to a friend

Dan Oliver
Retail price without tax:
$695.00
Description
J1902 Silver Overlay Ranger Set
Heavy gauge sterling silver four piece ranger set by Navajo silversmith Dan Oliver. The silver overlay set has a traditional Navajo rug pattern. The buckle itself is 2 1/4 x 2". Made for a 1" belt.
Dan made both traditional and contemporary silver work. He used pottery and rug designs in his traditional work. He says he gets his inspiration from nature: trees, animals, birds, mountains. Dan says: "Silversmithing is all I've ever done my whole life. I would like people to remember me for my silver work." Dan Oliver (b. July 22, 1957 - Aug. 17, 2015)
The Anselm Collection represents a significant new standard of excellence in handcrafted silver and turquoise jewelry. Each piece in the collection is the result of a life-long quest by the artist for self-expression, for an eternal symbol of personal excellence and individuality.
For information on ordering one of our custom made belts call 1 888 239 5872.